Wednesday, March 2nd, 2011
Moments ago the Hatsune Miku official fan page on Facebook has hit 100,000 likes. Facebook is still not very widely used in Japan, so I feel confident in saying that only a small number of the 100,000 fans are Japanese. The fan page has provided a useful barometer for an uptrend of international interest that's been demonstrated on YouTube but is difficult to quantify. As there is no centralized page for foreign Miku fans, and it was not advertised on YouTube, knowledge of the fan page spread primarily from person to person. Here is a graph of fans over time: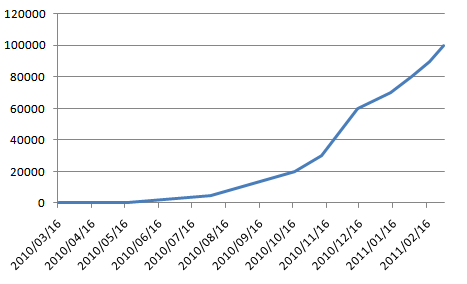 I took a lazy derivative of this which showed that the rise has been constant since December and shows no signs of letting up. Funding for this research was paid for by the Japanese government, although they were hoping I would teach some classes today, but I told them that there was a big thing happening on the Internet right now.
A quick scan of the comments show that these fans hail from the Philippines, Singapore, USA, Taiwan, Brunei, Indonesia, Australia, etc., etc. Although the 100,000 figure is certainly only a fraction of international fans, I think overseas anime interests should take note of this milestone. For comparison, J-List has 4,000 fans; 4chan has roughly 10,000 fans; Tea Party Senator Rand Paul has 99,000 fans.