Translated from pp. 194-7 of Folkloristics as Pseudohistory (Gishi toshite no Minzokugaku, 2007) by Eiji Ootsuka.
One of Osamu Tezuka's Occupation-era works is "Magic House" [Mahou yashiki, 1948]. For that era of SF, which boasts such works like "Metropolis" and "Lost World", it's a mere footnote in Tezuka studies, but for some reason Tezuka under the Occupation produced "youkai works" like this "Magic House" and "Youkai Investigators" [Youkai Tanteidan, 1948]. Foregoing the discussion of the problems his representations of physical disability present to the modern eye, compared to "Youkai Investigators" which has never been reprinted, "Magic House" has received several reprintings which are easily acquired. In this work, after the conclusion of the story, 10 somewhat unusual, youkai grimoire-like pages have been inserted.
[In this scene, which has nothing to do with the rest of the manga,] a bearded grandpa talks to a boy named Ken'ichi-kun [about the manga itself]. Grandpa says things like "For example, when ereki, or electricity was first used in Japan, everyone thought the Jesuits were magicians and were quite frightened," and "Among the Japanese, there are some elderly people with quite deep superstitions, who really believe that monsters exist," and negates youkai superstitions in a way akin to the late Meiji period youkai scholar Enryou Inoue. He then leads Ken'ichi-kun into a "Monster Exhibition Room" (Figure 1). This room explains scientifically how youkai are superstitions based in people's delusions. Finally, the comic ends with Ken'ichi-kun writing in his diary as shown in Figure 2.
Dear Diary,

Today, Grandpa bought a manga book for me called "Magic House". This book often talked about magic and monsters. Grandpa told me that magic is like fairy tales. I asked him if anyone can really do this kind of thing, and he said no. I think we need to be reading books about more real things.
Note that the monsters that appear in "Magic House" are not the Japanese-style youkai discussed in this epilogue, but are generally Western-style ghosts, as shown in Figure 3. Nevertheless, what the epilogue repudiates is a "superstition" which exists "among the Japanese", and moreover Tezuka goes so far to have Ken'ichi-kun record this enlightenment in his diary, so this work is thought to be an "Occupation manga".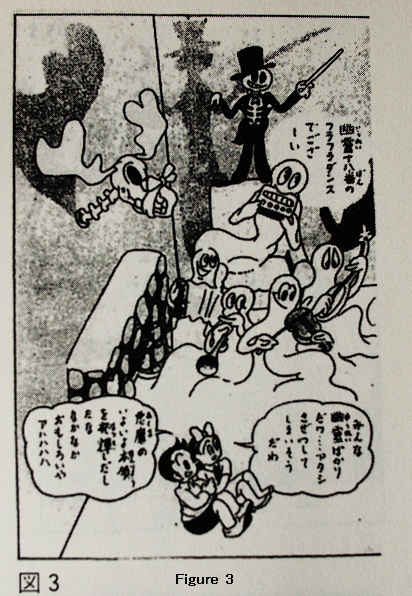 Now, compare this 1948 Fuji Shobou edition to the 1953 Shimo Shobou edition, which has been renamed "Magic King". As shown in Figures 4 and 5, the dialogue and the panels have been changed. The phrase "Among the Japanese" has been erased from the bearded grandpa's line, leaving it as "Some elderly people…". Although Shimo Shobou shortened many lines found in the Fuji Shobou edition, was this really a matter of space? And the last page of the Shimo Shobou edition has been completely rewritten. In this edition, the bearded grandpa closes with the following monologue:
Stories of monsters and magical creatures reveal the folk spirit beneath them… it really is a problem of problems, but… of course, it's not a good thing to really believe in monsters, but I'd like to keep monsters around forever as a dream within the human heart… people who forget to dream will have their heads made stiff and brittle by industrial civilization… hahaha!!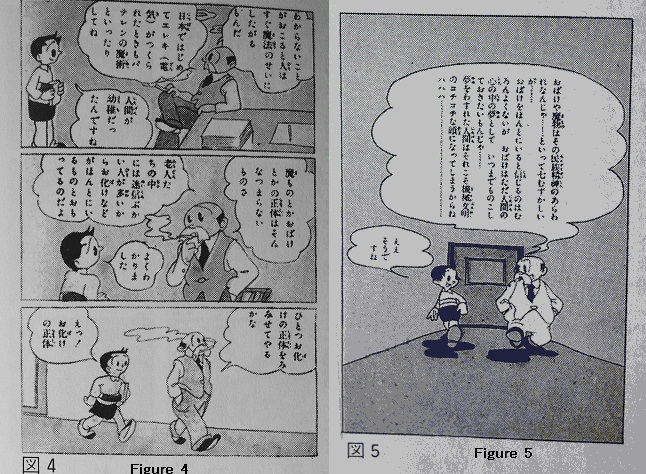 While we change from having "youkai" completely negated as "supersition" to having them affirmed as "a dream within the human heart", what one should take notice is the line, "stories of monsters and magic [sic] reveal the folk spirit beneath them." To see the word "folk spirit", which was an overtly political term during the war, employed in 1953 naturally causes discomfort.
Discomfort in who, I wonder? Well, the book is all about how the concept of "folklore" is evil and makes you a Nazi, so I suppose the author cannot avoid the hilarious conclusion that Japan requires the guiding light of Occupation censors to avoid the horrible danger of enjoying its own folk tales. Still, I found this post-Occupation rehabilitation of youkai quite fascinating.