Around a year ago, the Japanese religious group Happy Science, which I've covered previously on this blog, put out a new anime movie called "The Rebirth of Buddha". It was also screened in the United States. However, for whatever reason, I didn't watch it at that time. I've only just got around to it, and it put a big smile on my face, so at long last, here's the first ever English language review of this movie.
I should note that someone with a gushing opinion of this movie put it on BitTorrent, which combined with what I already know about Happy Science, gives me a suspicion that they might actually approve of non-Japanese people downloading and watching it. Here's a DDL link too. I'm bad at concealing spoilers so you might just want to forego the review and take a look for yourself.
tl;dr version: Do you want to see an evil Heian period demon reincarnated as a businessman riding on a UFO made of bats interrupting a major league baseball game to duke it out with CG angels and some guy riding on an elephant? Then this film is for you!!!
Strengths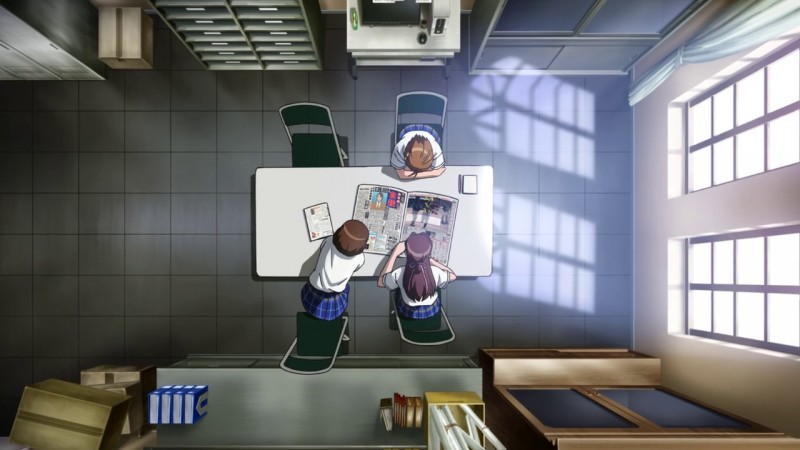 The animation and cinematography in this film is very good. Each of Happy Science's productions seems to be an order of magnitude better than the last, technically speaking. And not even a Ghibli production could measure up to Happy Science's evangelistic prowess: there are subtitles in 13 languages, and 4 audio tracks. I wouldn't bother with the English dub, though you might try your luck with the Chinese or Spanish ones.
Unlike "The Laws of Eternity", which was frankly unhinged in its references to Thomas Edison as a Bodhisattva and Space Hitler summoning an evil Megazord and all other kinds of craziness, "The Rebirth of Buddha" actually has a fairly coherent plot. It takes place in modern-day Japan, with realistic sensibilities and economic woes, and delves into Japanese thought on religion in ways that prior movies didn't.
The realism is pretty much limited to that, unless if you think UFO attacks, telekinesis, and mass hypnosis are things that actually happen on an everyday basis in Japan. However, if you can suspend your disbelief that much, it's a pretty interesting story and a good look into both Happy Science's placement in Japanese society and its image of its own history (more on this later).
Plot Analysis
SPOILERS – SPOILERS – SPOILERS – SPOILERS – SPOILERS – SPOILERS
The plot is a fairly obvious reimagining of the most famous event in Japan's postwar religious history, the March 1995 Aum Shinrikyo gas attacks. Any Japanese person who was alive in 1995 will be able to identify that the film's villain, the religious poseur Tousaku Arai, is a symbol for the cult leader Shoko Asahara who ordered the attacks as well as various murders and attempted assassinations. If you're not totally sure whether this is intentional, some images have been snuck in to confirm it, such as the siddham script logo of his organization (shown above), paralleling the sacred Aum used by the real world cult as a logo. To summarize the two hour film, Arai tries to teach people a Nietzschean dog-eat-dog morality ("yakiniku teishoku"), and to make his teachings more appealing (?) launches a UFO attack on Tokyo. This plan is foiled, as well as his mass hypnosis plan, so he ends up kidnapping the main character and riding with her on a UFO into a baseball stadium.
Arai's cartoonish, Doctor Evil-esque machinations are frankly less frightening than the memory of Shoko, an enigmatic figure with a long beard who cultivated ties to the Dalai Lama, the Russian government, and current Tokyo governor Shintaro Ishihara. Shoko projected a bold image of national and religious revival, even as he instructed his followers to obtain and research various forms of chemical weapons. With Tokyo subway sarin gas incident the country learned that this major religious group had been nurturing a psychopathic streak for years, and this revelation poisoned the image of religion generally. Since then, not even the biggest movement Soka Gakkai has recovered its pre-Aum levels.
What most Japanese people may not know is that the general layout of the history being represented in The Rebirth of Buddha is true. Happy Science was deeply opposed to Aum Shinrikyo, and as portrayed in the film, abused Aum members really did flee to Happy Science. In February 1995, a covert Aum murder team attempted to assassinate founder Ryuho Okawa with VX gas (they also tried to kill the Soka Gakkai leader, twice). Just days before the gas attacks, Happy Science held a public protest outside Aum headquarters. In a sense, the story of good and evil Japanese religious groups duking it out is kind of real.
It only makes sense that Okawa might be thinking his side of the story has not been told well enough, but this anime neither reveals that commendable history nor makes any similar boasts about Happy Science's record. In fact, as with the previous anime, Ryuho Okawa is not portrayed directly; his altogether more handsome stand-in is a guy with the cute name "Sun Of-the-sky" (Sorano Taiyou). The religious identity of the film is thus anonymized, and the viewer is invited to learn about Ryuho Okawa and the true faith for his or herself. This is a pleasant bit of modesty that makes the film a bit easier to watch.
Where the film fails, of course, is its metaphysical nuttiness. Shoko boasted of supernatural powers. In this film, Arai really does have incredible supernatural powers, and the world can attest to them; the only problem is that he's using them for evil. All that is needed, in the film, is for Arai to be countered with the superior supernatural abilities of Mr. Sun. Admitting the uncomfortable reality, that Shoko's real evil power was to be found in his large stockade of poison gases, would have made the movie less entertaining. This does not do much to combat the easily reached conclusion that Happy Science is living in a fantasy land.
Post Tohoku earthquake, the tsunami scene is also a little uncomfortable. The tsunami is actually a hallucination caused by Arai, so Okawa's Mary Sue character simply comes on the TV and tells people to wish the tsunami away, and just like that it disappears. It should go without saying that real disasters cannot be handled in this way. Perhaps some understanding of Okawa's religious views can be gained from seeing people turn from fear and panic to calmness and resolve, but a scene that may have been fit for a silly disaster movie in 2010 just no longer works in 2011.
Weaknesses
I hate the title of this movie, although it's Happy Science canon, drawn from a 1989 Ryuho Okawa tome where he claimed to channel the spirit of Buddha. I don't know how Okawa can think he's getting away with messing up one of the most basic facts of Buddhism. Buddha has passed into Nirvana; he is not around anymore to be reincarnated. Buddhist sutras state that we are living in the post-Gautama Buddha age, and when another Buddha arises it will be a different person entirely. According to Happy Science, it seems, every Buddhist text throughout history was corrupted, and Buddha actually said that he was coming back to be reborn as Ryuho Okawa in 1945 or whatever. I guess if you're a pledged Happy Scientist you're willing to disregard all sorts of inconvenient facts.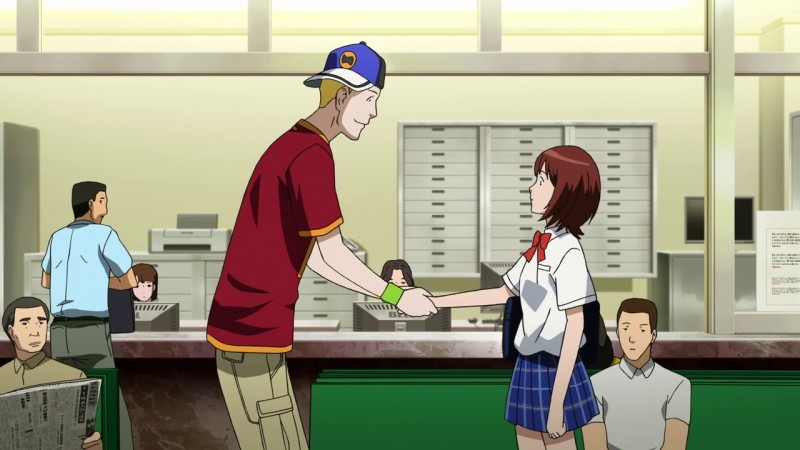 And now let's talk about the gross xenophobic twist the director put on the film. "Laws of Eternity" portrayed an impressively multicultural Japan, in line with Okawa's belief that foreigners in Japan should be given an easy path to naturalization, and a general love of foreigners found throughout Happy Science literature. For some reason, in this film all that goes out the window, and instead we have the gag foreigner caricature who speaks with a horrible accent I've never heard a real gaijin use, and who does dumb crap for laughs like yelling in a hospital. Oh well, I guess this is just like any anime ever.
The shaman from the previous movie gets a cameo in this film, as a talking head on a variety show. I don't know why they did this but it blew my mind.
Overall, this film is like a 7/10 on entertainment merits alone, but if you want to know about Happy Science, or if you already know about it and want to see what it's pulled off this time, you'll love it.