Spoilers ahead. If you didn't watch Panty & Stocking Episode 1, why didn't you? Geez, it's been out for two days already.
I used Google Blog Search to blogisearch the aniblogisphere and I discovered that there is a severe lack of pseudointellectual blogspounding on Panty & Stocking. So I decided to blog about it on this very dead blog. Blog.
Heheh, that's a word.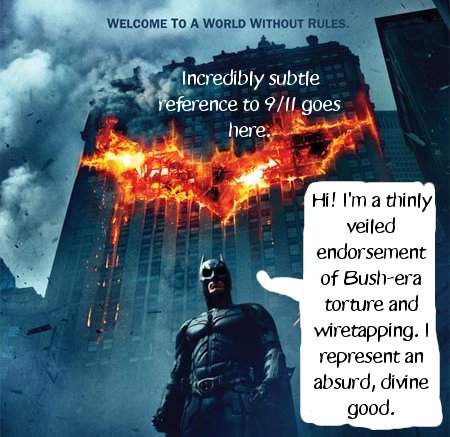 I fucking hate superheroes. Not because they're embodied wish fulfillment, because all fantasies work that way, but because they represent a morally stunted wish. Superheroes are pseudofascist agents of God who do battle with some sort of Satanic power and none of this has any basis in real life. Normal people judge others by their actions, but if you buy into the superhero concept then you simply pick one side to be "good" and approve of everything they do.
Recently there have been "complex" superheroes who do dangerous things. This makes me hate the concept even more. The entire idea of a superhero is that good guys don't need to follow the rules because their goodness is independent of their actions. Did anyone root for the Joker in Dark Knight just because Batman was tapping some phones? Yeah. Didn't think so. Now, knowing that the Joker is out there, will you allow the federal government to tap your phone without court permission? Just keeping you safe. From the Joker.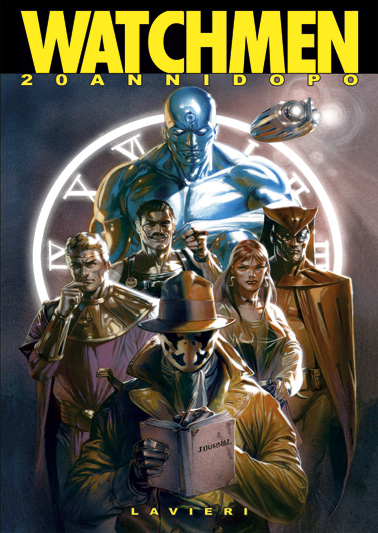 I'll admit that antiheroes are slightly better than superheroes. But they're still absolutely worthless as a character in a socially meaningful story. Yeah, we get it, your life is filled with pathos and the world is a gloomy and morally ambiguous place. God is dead, etc. You're still jumping over buildings and shit. I couldn't tell you a lesson I learned from Watchmen that I could apply to real life. Actually, I can't really remember what happened in that damn movie, other than everything was Doom 3 dark and there was a lot of blood and other squicky things. It felt kind of cool to watch, then I realized it was a lengthy tech demo with no relevance to my life. What a waste of $20 that was. Should have bought two copies of Minecraft with that money.
So, Japan doesn't usually do superheroes, for the reasons outlined above. Yeah, they have magical girls and super-baseball players who star in cartoons aimed at 9 year olds. But in shows aimed at adults, the characters tend to be, well, adults. Panty & Stocking breaks that mold as well as a lot of people's heads. Because it's an extended riff on superheroes, it's drawn like an American cartoon. But the plot is absurd: the good and evil literally become a Christian apocalyptic battle between angels and devils (ghosts?), both of whom appear to be evil.
I think this is the real catch with the show, at least episode 1: Panty & Stocking are both deeply flawed women who would by American standards be cast as antiheroes. The "adult" show ought to be playing up these "big intellectual questions" like, ohhh, if they're so bad, how do we know who's really good? But they don't give a shit, and neither does anyone else except for their tightass priest friend Garterbelt. Their utter immorality is a joke. They go out and kick ass, and then go back to fucking and pigging out afterwards. They are superantiheroes.
Which is the way it ought to be, right? As long as they're saving the day, who cares what they do in their private lives? Even they don't care about their retarded "angel" backstory. That's my kind of superhero. Batman is comparatively a sissy.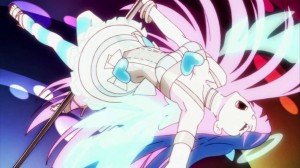 I love the transformation scene, which makes a brilliant travesty of superhero culture. It's like the ten millionth magical girl transformation scene parody I've seen, and its reference to Japanese majo shows is pretty shallow, but the message with regards to American cartoons is comparatively deep: "Before defeating this bad guy, I'd like to remind everyone here that I am perfect evil."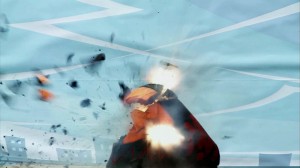 Something utterly profound about the bad guy in the second half of Episode 1 goes here. I liked it. Deep moral lessons were learned by all. Or not. That's the point I was making, right? Was I making a point? Eh, let's move on..
There hasn't been much going on so far besides pure silliness, but I think there's some real potential in this show. Too bad it airs at like 3am or whatever.