For Christmas I received an iPod Touch. Not a lousy present by any means; it's been wasting my time for the past 12 hours. I have determined that by far the most interesting thing to put on my iTouch are poorly translated anime games. Having devoted far too much of my short lifespan on this Earth to downloading and playing nonsensical games featuring brain damaged young women, I feel it is my duty to inform you, the reader, of what I have learned.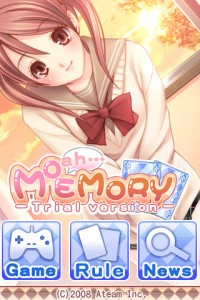 Ah..Moemory: $2.99
Ah..Moemory Lite: Free
Ah.Moemory 2: $1.99
Animemory =Japanese Schoolgirls=: $who cares
Sakuratanns: 1/5
This is the lower rung of what I would consider a "moé game" rather than merely an "image gallery", which are available for free online. In fact, the website entices you to "see images of girls in significant volume." So, yeah. This is a memory game with a picture underneath. I don't know why anyone would be obsessed with memory games, but apparently it was popular enough to make a sequel, which appears to be raunchier. However, there's nothing special about this game at all. It's not even like you're being surprised by the images underneath the cards, because they're the same pictures that are on the cards. So, all in all, nice artwork, but not very exciting.

Girls' Break!: $2.99
Sakuratanns: 2/5
This is what it looks like, moé Breakout. It's by the same company as the last game and is similarly directionless and plotless. Great, now I have to fill this space up to make room for the screenshot. Tokyo no chuusuu wa marunouchi, hibiya kouen ryougiin, iki na kamae no teigeki ni, ikameshi yakata wa keishichou. Sho kan shou zurari babasakimon, kaijou building, Tokyo-eki, poppo to deru kisha, doko e yuku? Ramechantara gicchoncchon de pai-no-pai-no-pai, parikoto panana de fry fry fry!
MOETAKU: $0.99
MOETAKU(Lite): Free
Sakuratanns: 0/5
It's a poorly drawn moé calculator. Yeah, this is pretty much the dumbest thing imaginable.

CatEarMinutes, SharmanFacts, PrettyBunches, etc.: $1.99
Sakuratanns: 0/5

I don't really understand the purpose (or price) of these apps. I think they're some kind of scam, especially since all of their descriptions begin with the words "Everything is precious to you but what I really wanted to say is that XYZ is a very cool and shocking application.", Kanye style.

Rina's Slide Puzzle: Free
Sakuratanns: 2/5
This game is a little step above what we've been looking at, for a number of reasons. First, it's free. Second, it's more than just artwork: it appears to have characters that make tsundere comments at you, even though it's a slide puzzle game and you are sliding little chunks of their faces around. Unfortunately, it's in Japanese, so I will have to take off some points. There are plenty of Japanese apps in this style, and I was aiming to only review the English ones.
MoeCamera: $1.99
Sakuratanns: 2/5
In this app a little girl says "goshuujinsama" at you while you take a photo. It looks like she doesn't do it automatically, so this is kind of lame. I prefer my automatons to have a semblance of life about them. I wasn't able to review this personally because it's only for iPhone. But people who have an iPhone are locked into paying bills to AT&T for the rest of their lives. Ha ha, suckers.

MoeAlarmClock: $0.99
MoeAlarmClockLite: Free
Sakuratanns: 3/5
This alarm clock is almost the same idea, by the same guy, but I award it extra points because the maid gets increasingly angry at you of her own volition, and it disables the power save function automaticall. Good work.

Old?Maid!: Free
Old?Maid! FULL Version: $1.99
Sakuratanns: 4/5
Now here's a solid game unlike the rubbish I've been sorting through. It's got setting, characters, and some real action going on, and it's translated into English adequately. Of course, the game is only Old Maid, which has no strategy involved (or does it?), but the added setting really cranks up the moé in a good way. I might spring for the full version here.
Rio BlackJack: $3.99
Sakuratanns: ???
This is another card game, but it has no free version so I didn't review it.

Gift (eng): $9.99
Gift (eng)Lite: Free
Sakuratanns: 2/5
Finally, we're getting into the visual novels. All three of these represent days or weeks of translation work on the part of the production companies. Gift was the first game translated by Mtrix. It's very poorly done: the translator calls it a "heroin game" on the description page, for starters. It's really something that the "quick save" button is right next to the "quick load" button on a small screen. It's also ridiculously hard to find in the App Store by searching. It's supposed to be a serious game, but the translation turns it into a comedy. The game itself is also as generic as it gets. I would ignore this one.

Kira☆Kira(eng): $9.99
Kira☆Kira(eng)LITE: Free
Sakuratanns: 4/5
KiraKira is also by Mtrix but it's a much better attempt. Well, I mean, the Quick Save is still right next to Quick Load, but both the translation and the game itself are worlds apart from Gift. Better artwork, storyline, music, just about everything. I could see myself buying the full version of this game, although I'm still getting used to the iPod screen so I won't spring for it just yet.

My Neighbor Girl: $9.99
My Neighbor Girl (free): Free
Sakuratanns: 5/5
My God. This is one of humanity's greatest achievements. Okay, this isn't totally fair considering how much worse this game is than KiraKira, but the voice acting, man, the voice acting. Go download the lite version now. Have you ever heard a more moé thing in your life? A thousand blessings upon you, Daidai Inc. May all your seiyuu be reborn in the Pure Land.