Here is a 2004 game by ALCHEMIST. But enough about that, >>1. Hear me out for a second.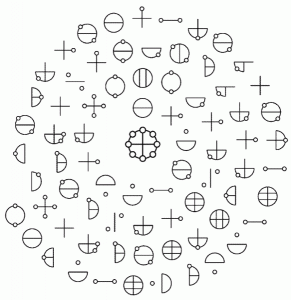 In 1949, a Japanese writer named Kōgetsu Narasaki was contacted by a man named Tōji Hira, head priest of a mysterious shrine deep in the 六甲 mountains called Katakamuna Shrine. Mr. Hira's family had run the shrine for generations, handing down a set of unintelligible documents in a strange script from father to son. Narasaki had heard of rumors of an ancient race in Japan, which developed iron and used an eight-directional symmetric script, and had reached various high stages of civilization. He saw that the priest's manuscript had not only powerful physical but also spiritual meanings, and published it in a book entitled "The Ancient Civilization of Japan". It became known as the Katakamuna Documents.
Narasaki was playing into a centuries-old theme in Japanese esotericism called kamiyo moji (神代文字), the script of the age of kami. When we think of "kami" the English translation that comes to mind is "gods", but both kamiyo moji and the game Katakamuna may help you dispel this inaccurate equivocation. The idea got started during medieval commentaries on the Nihon Shoki, a Japanese history text from 720. The text claims that Izanagi and Izanami, the two kami who founded the Japanese continent, performed scapula divination, which is indeed something Japanese people did in the Yayoi period. The commentators concluded that they must have written something on the bones like Chinese people did with their oracle bones. (This is actually wrong because scapula divination, unlike oracle bone reading, did not use writing, but archaeology was not invented until 600 years later.) But the Chinese script was not brought to Japan until the Asuka period. Therefore, Izanami and Izanagi must have had their own system of writing! This historical analysis isn't really something you expect to read about gods, but if they were just heroes of early Japan, it sort of makes sense.
So, all you have to do is discover some ancient texts you had lying around in your shrine, and you've got conclusive proof that your favorite kami had their own script that, like, totally predated the arrival of Chinese script. In the 18th century many syllabaries like the one above appeared in shrines or were shopped around to various scholars. Alternatively, combine them with Kokugaku (Japanese nation-building theory) and you have proof of Japanese supremacy: they had the first writing system in the world. The Kokugaku scholars had some semblance of self-respect, though, and most of them rejected the kamiyo moji as frivolous hoaxes. The most damning evidence is that they all matched one-to-one with katakana. This was part of the theory, not a lack of imagination, but when scholars realized that Japanese had seven vowels in the Asuka period, it was a mortal blow.
After the Occupation, kamiyo moji theories came to their resting place in the wonderful world of New Age theosophy. For example, Ando Kensetsu believes that kamiyo moji are the origin of all languages and were brought to Japan 230,000 years ago from a UFO. Saji Yoshihiko believes that kamiyo moji were created 12,000 years ago. And so forth. Katakamuna settled in nicely besides these, so now it is literally compared to crop circles.
Now we come to Katakamuna the video game (cleverly written 片神名, utilizing several old kanji including an ancient pronounciation of kami). In this game a high school boy and his girlfriend are transported back in time to the civilization of Katakamuna during the age of kami. Izanami herself is a dateable character in this game (the seiyuu is Mamiko Noto, of Marimite and "Noto kawaii yo Noto" fame). Here again we see Western translations of Shinto terms dashed against the rocks. If "kami" was equivalent to "god", to portray Izanami in a visual novel would be blasphemous and nobody would want to buy the game. But instead she seems to be cast as a powerful but shy and altogether human miko, a sort of Homeric hero who battles the horrible worm of humanity's racial memory in the screenshot shown above.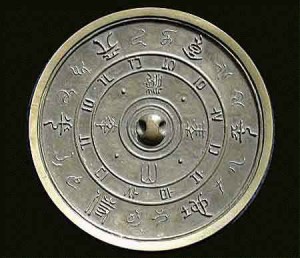 The disc on the cover of Katakamuna is a supposedly ancient artifact with kamiyo moji on it, but unfortunately I don't know much about it so I will stop blathering here.
I was sort of obsessing about how much of an improvement Katakamuna is over Utawarerumono this evening so I decided to write a post on it. I would like to read some novels set in the world of Katakamuna, which I imagine to be a mixture of Clan of the Cave Bear with Jomon period archaeology and the tales of the Nihongi. I haven't actually played this game but it looks like fun. It doesn't seem to have made much of a stir though.
Katakamuna Videos
The first few minutes of gameplay